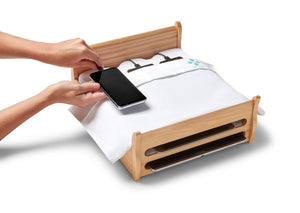 Arianna Huffington's Phone Bed Charging Station, brought to you by Thrive Global
Sale price Price $65.00 Regular price
Arianna Huffington's Phone Bed Charging Station, brought to you by Thrive Global, makes putting your smartphone to bed a regular part of your nightly ritual. By giving your phones and tablets their own bed - outside your bedroom - you can say goodnight to your day and get the sleep you need to wake up fully recharged.
Charges up to 10 devices at a time (including tablets)
Constructed of solid wood with velvet-lined compartments and satin liners
Includes dual-sided blanket in satin and microfiber to clean device screens
Great for home or office use
Available on Amazon in Oak and Walnut.